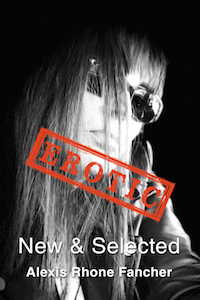 The future bibliography of Alexis Rhone Fancher's books will strike many readers familiar with the writing of Baby Boomer poets as most unusual, even for a genre in which canonical determinations gravitate to the anomalous. Unlike other Baby Boomer poets—such as Rae Armantrout, Eileen Myles, and Amy Gerstler—who had their first books published well over 30 years ago, Rhone Fancher's work only began appearing early in the past decade. Despite the disadvantage of this late start, Rhone Fancher's first New & Selected holds up well against other such assemblages by her contemporaries. The choice to focus on a single topic, the "erotic," is unusual for such a book project, but Rhone Fancher is probably best known for her poems on this particular theme, for which her poetics can be tracked back to the post-confessional school that followed Plath and Sexton. Let us not forget that one particular second-generation subset of these poets found Los Angeles County to be a particularly hospitable environment. This group includes deceased figures such as Bob Flanagan, Wanda Coleman, Leland Hickman, and Kate Braverman, all of whom distinguished themselves by creating provocative voices aligned with transgressive personae. In a city known for cinema, such poets made of their poems a stage on which the plasticity of their images often transfixed individual readers as if one were in a front row seat at that kind of grueling event championed by Antonin Artaud, with the one on stage signaling through the flames.
In adjoining and complementing this earlier cluster, which also includes still living Stand Up poets such as Laurel Ann Bogen, the theatrical narratives of Rhone Fancher's poems maintain the reader's attention by probing the sources of eroticism's hypnotic power. The contest between domination and submission plays itself out in Rhone Fancher's poems with all the panoply of the erotic marking the boundaries of the staged encounters. As is the case with play scripts, her poems have not so much been revised—though clearly much was deleted, restored, deleted again, expanded and revivified—but rehearsed. The "self" that speaks in these poems is an actress of a certain age whose memories have been distilled through the purification of a ferocious use of the classic techniques of method acting. Age often works against female actresses, but in this instance it only reinforces the intensity with which the performer looks out at the darkness inhabited by the audience and speaks in a way that no other recent poet has quite sustained in this manner. Certainly the best of Edna St. Vincent Millay will come to mind as readers engross themselves in Rhone Fancher's poems, but her more casual versification allows jovial candor to intermesh with poignant passion to an extent unheard of in other recent poets.
Oddly enough, for a book entitled EROTIC, most of the poems do not devote disproportionate attention to the genitals of the lovers. Oh, there are sufficient references to "rock-hard clits" to make certain that no reader risks getting distracted from the physiological gratification of sexual encounters; but while poems such as "I Prefer Pussy" or "Morning Wood" are exceptions to the general tenor of the book, they are also among the very best examples of Rhone Fancher's skill with tone and pacing. In compensating for relaxed enjambment, part of her genius is the ability and the willingness to give the best lines to someone other than the narrator. Rarely does writing concerned with the epistemology of gendered power strip down a conversation with the level of wit Rhone Fancher brings to bear in her poem, "Morning Wood":

"Touch it," he says. 

My lips grace the tip. 

His penis tastes 
like sleep. 

In his 
hips' 
hollow, 

between 
his pincer 
thighs, I nestle. 

Open-windowed 
sunlight 
climbs the walls, 

honeys his dear 
face. 

I long to inhabit him. 

"Do you think 
of your penis 

as an 'It' 
or a 'He'?" 

"Neither," he says. 
"I think of it as Me." 

The most memorable sequence of poems in EROTIC addresses a younger sibling with whom the narrator has had a prolonged contest to achieve and retain erotic power. These dozen poems all have a subtitle in parentheses ("A Sister Poem") and probably should have been divided from the rest of the book by appearing in their own section; they have, after all, the cumulative power of a novella. In fact, the poem about the aunt taking the narrator out to lunch reminds me of the irony in Ford Maddox Ford's The Good Soldier, in which it appears that all the secrets have been revealed in the narrative, although the reader is the only one who can detect what truly makes it the "saddest story I have ever heard." I'll leave it to the reader to detect exactly how that poem about lunch with an aunt should be understood in its full implications of a family's generational turmoil.
In addition to the work already mentioned, there are a dozen poems and several prose poems that will probably become audience favorites as the reputation of this book begins to pull in an ever increasing audience. Among my favorites are:
"Don't Wash"
"Nebraska"
"Ce Qui Importe (What Matters)"
"Caged"
"Mixed Signals"
"The First Time I Made Cousin Lisa Come"
"this small rain"
"His Full Attention"
"Your Target"
"White Flag"
I could, in fact, list twice that many titles and not exhaust potential variations for a set list of a reading by Rhone Fancher. In fact, the one thing that I most wish would happen for this collection is that it could be available as a recorded text. In addition to the theater, one influence on Rhone Fancher's poetics that deserves acknowledgement is the spoken word movement, especially as it became known through Harvey Kubernik's New Alliance Records releases. One of the most remarkable hybrid developments in poetry in the 1990s happened when poets such as Michael Lally and Harry Northup had their poems reframed as "spoken word." Rhone Fancher's poems are every bit the equal of their work, and her poems too possess a remarkable ability to shape shift in their generic categorizations.
I once called much of the poetry in Los Angeles "The Self-Portrait School of Romantic Existentialism." One of the secrets of literary success is keeping things straightforward and uncomplicated and my categorization certainly wasn't going to score many points compared to the bluntness of a school called "Stand Up." Nevertheless, Rhone Fancher's poems in EROTIC: New & Selected are ones that I wish could have included in the anthology I edited and published in 1985, Poetry Loves Poetry. From my point of view, I cannot offer much higher praise.
Part Two:
As should be expected for a volume that styles itself as "New & Selected," Rhone Fancher's EROTIC is long enough that few people will read it at one sitting. Or even two or three. It's not just the topical saturation that will make many readers need to absorb the writing in small doses, but also the need to look up from the book and think about the ways it serves as cultural work in a larger sense, which includes shifts in the discourses of the explicitly obscene.
In one of my recent scholarly articles, I cited the keyword "permissiveness" as a term that has been neglected in accounts of social transformation in the United States. The reproduction of social life did not, of course, discover how contentious "permission" can be. Ideological message control is central to modernity's escalation project, as well as to post-modernity's push-back. There are still words, after all, that one can't say on public broadcasting stations. You want to hear that kind of language? Pay for it. Streaming permissiveness has insulated many people from realizing how constricted things were not that long ago.
The issue of permissiveness within popular culture is one of the "subplots" of Rhone Fancher's EROTIC. "Subterranean Lovesick Clues," for instance, is a seven-scene, one-act poem that features a soundtrack consisting of lines from one of Bob Dylan's best-known early songs, the period in which he produced his most influential work and without which he never would have been recognized with a Nobel Prize. "Clues" is unlikely to be one of the pieces that will appear in a contemporary anthology, or at least in any anthology I might edit. In its blending of popular culture with non-musical versification, however, it serves another important role in encouraging more discussion about the expanding limits of erotic gratification within popular culture.
As a poet, I appreciate the audacity of Rhone Fancher's self-portrait in this volume. EROTIC: New & Selected deserves consideration by those who make "best-of-the-year" lists for their top ten picks. As a scholar, I hope that EROTIC leads those interested in cultural studies to cite her book in dialogue with all the other books that have altered the maturation of feminism during the past half-century. EROTIC is an important book not just for its poetry but also for the way it contributes to the conversation started by projects such as The Hite Report and Our Bodies, Ourselves, or the workshops led by the late Betty Dotson. If any scholar is working on a follow-up volume to Maria Damon's book on poetry and cultural studies, then Rhone Fancher's book needs to be a major part of one of the chapters. Until this additional context is made part of the awareness informing a reader's absorption of Rhone Fancher's poetry, one can only sigh and realize how little progress has been made in being forthright about the lineaments of gratified desire.
Part Three:
In the days that followed the posting of the first two parts, I thought about one of my favorite poems in Rhone Fancher's EROTIC: New & Selected, "I Prefer Pussy." I don't think anyone has done an anthology of list poems yet, but should someone undertake such a collection, Rhone Fancher's ode of the naming of a woman's private parts deserves immediate acceptance, for it is a poem as worthy of memorization every bit as much as Philip Larkin's "This Be the Verse." I have heard that Larkin's poem is one of the poems most often memorized in Great Britain, and that's hardly a surprise.
What should give one pause is how much of a chance a teacher would take in endangering her or his career, even at the college level, in assigning this poem in a survey of poetry class. My guess is that most professors would choose to play it safe, and not even mention the existence of Rhone Fancher's poem, let alone make it required reading. In the likelihood of this exclusion, Rhone Fancher significantly contributes to the ongoing challenges to normativity that modern poets in particular have insisted on as central to their poetics.
Coda:
I mentioned at the start of Part Two that most people would probably read this book in increments. Should you wish for a break that stayed "on topic," I would recommend an award-winning short video by Michelle Verhoeks, entitled Diep.
Fortunately, it is available at the following link:
https://vimeo.com/224046306
—Published previously at the author's blog, www.billmohrpoet.com (11 July 2011); appears here with his permission.
holds a Ph.D. in Literature from the University of California, San Diego. His first poem was published by Fuse magazine in San Diego in 1972. Since then, his poems, prose poems, and creative prose have appeared in a multitude of magazines, including 5AM, Antioch Review, Blue Collar Review, Blue Mesa Review, Caliban (on-line), Invisible City, KYSO Flash, Miramar, Santa Monica Review, Skidrow Penthouse, Sonora Review, Upstreet, and ZYZZYVA among others; and in a dozen anthologies (including one in Japanese).
In October 2018, What Books/Glass Table Collective in Los Angeles published a bilingual collection of his poems, Los Manantiales del Nirvana (The Headwaters of Nirvana). In 2015, Bonobos Editores in Mexico published a bilingual edition of his poems, Pruebas Ocultas. In addition to a spoken-word collection, Vehemence (issued by New Alliance Records in 1993), individual collections of his poetry include Hidden Proofs (1982) and Bittersweet Kaleidoscope (2006).
Mohr's scholarly publications include a critically acclaimed literary history of West Coast poetry, Holdouts: The Los Angeles Poetry Renaissance 1948-1992 (University of Iowa, 2011). In 2015, he co-edited Cross-Strokes: Poetry Between Los Angeles and San Francisco with Neeli Cherkovski.
From 1972 to 1988 he was the editor and publisher of Momentum Press, the archives of which are held at UCSD. In addition to publishing two landmark anthologies of Los Angeles poets, The Streets Inside: Ten Los Angeles Poets (1978) and Poetry Loves Poetry: An Anthology of Los Angeles Poets (1985), he brought out books by poets such as Alicia Ostriker, Jim Krusoe, Holly Prado, Kate Braverman, Jim Moore, Harry Northup, Joseph Hansen, and Leland Hickman.
In 2014, Mohr received the George Drury Smith Award from Beyond Baroque in Venice, California, and in the summer of 2015, he recorded over ten hours of biographical material for the Oral History Project at UCLA's Special Collections. A professor in the Department of English at California State University, Long Beach, he is a fully engaged academic who frequently gives papers at conferences such as MLA, PAMLA, and the ALA.
Author's blog on poetry, culture, art, and politics, which receives more than 25,000 hits per month: www.billmohrpoet.com
⚡ Why the Heart Never Develops Cancer, a poem by Mohr in Luvina; two-minute video reading at YouTube by www.Poetry.LA (May 2010)
⚡ Three Poems in Moonday, Moonday Poetry (2006); includes "Naked Chef," "Your Skin," and "Big Band, Slow Dance"
⚡ Part One: The Publisher Speaks with Poet & Lit Historian, Bill Mohr at IF SF Publishing (27 March 2012)
⚡ Part Two: Let's Not Deceive Ourselves about the Lack of Engaged Literacy in this Country at IF SF Publishing (28 March 2012)
⚡ Part Three: A Poem Is Language Occupying the Architectural Infrastructure of Language... at IF SF Publishing (29 March 2012)